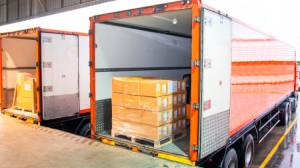 Shipping & Sampling Made Easy
Dear customers, we've negotiated with our shipping partner who is a large national carrier, and eliminated the guesswork behind calculating the cost of shipping. Our standard shipping options are simple: $15 shipping for all sample orders via USPS and flat-rate freight shipping per pallet as low as $249 (*see pallet size/details below).
Samples Ship $15
We understand buying materials such as wall panels and roof panels online can be a very daunting task and oftentimes customers take the risk of purchasing something without seeing or feeling them. At POLYNX®, now you can view the design, feel the texture and test the durability of our products you are most interested in with one flat shipping cost that is affordable.  We suggest to our customers that you order a few samples with us of the different patterns/colors of your choice.  Why? Because like paint, every wall panel or roof panel will read differently. To help narrow down your selection we suggest placing the sample choices side by side on the wall to see the differences. For some, this can be overwhelming to the eye; if that's you, make it easier by leaving some space between the samples.
Nationwide Flat-Rate Curbside Shipping
We like to keep things simple here at POLYNX®. Our Premium Curbside Shipping Service offers flat-rate shipping nationwide per pallet across contiguous United States (* excluding Alaska and Hawaii) on all freight orders. Shipments will arrive in 8 to 12 business days soon after it arrives at the destination port and is cleared by Customs if it is a special order or in 15 days if it is inventory and ships from our warehouse. Online tracking and curbside delivery included.
Customers only pay a flat fee per pallet to get the products you have ordered right to your construction site within the United States once the product arrives at our ports. You do not have to worry about any other charges.
Here is the flat tiering pricing for shipping your orders with us:
| | |
| --- | --- |
| Distance from our zip code | Flat Rate Charge per Pallet* |
| Within 1000 miles from our warehouse in Richmond, VA | $249 |
| Within 2000 miles from our warehouse in Richmond, VA | $299 |
| All other shipments within Contiguous United States | $349 |
*The flat rate fee is subject to change as Shipping Charges can vary based on market conditions. If fuel surcharges and transportation cots increase, by our transportation partners we will have to invariably change these flat rates.
*The standard pallet size is 48″ X 40″ and can hold normally 20 boxes of PU panels and is limited to gross weight of up to 1000 lbs. We will also stack the pallets to the maximum safely allowed height of up to 60 inches high and shrink wrap them to avoid any damage during transportation. To put this in perspective, a typical customer's order of 30 boxes of PU panels and 10 boxes of Corner panels as an example will be shipped in two pallets. (18 boxes of long panels in one pallet, and 12 boxes of long panels along with rest of corner panels in another pallet).
Orders of 3 boxes or fewer are shipped USPS Ground Parcel, rather than Freight as it works cheaper. Orders of this size are delivered to your front door and do not require a signature. Shipping costs for small orders such as this will be a custom quote. Please call us in advance and we will work with you.
Similarly for very large bulk orders (ex: over 60 boxes of PU Panels or more), where you are bulk purchasing that might require 4 or more pallets at a time, we will work with you to come up with a custom quote and reduce shipping cost.
WE'RE HERE TO HELP
Got questions?
Allow our knowledgeable team to bring clarity to the seemingly complicated world of home construction. We are focused on simplifying the process for you and make it affordable for you to custom build your house with our materials. Send us an email at support@polynx.com.