How to Use Polynx Decorative Crown Moldings and Trims to Beautify Your Home
 What is Molding?
Molding, a type of trim, serves as an essential element in home decor. It enhances exterior spaces and interior rooms, providing finishing touches and refined details to walls, cabinets, and furniture. With the ability to conceal gaps on baseboards and accentuate ceilings, molding plays a significant role in creating a polished look for your home.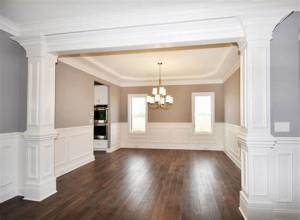 Baseboard molding, which separates the floor from walls, adds a finished touch to any room with its decorative design element. It contributes rich details, elevating the overall appeal of your space. On the other hand, crown molding serves as a decorative trim used to cover the junction between walls and ceilings. Its addition brings an elegant touch to any room, and it comes in various styles and materials, such as wood, plaster, foam, and plaster-covered foam polyurethane. You can customize crown moldings by painting or staining them to match your walls, and their designs range from simple to highly intricate, allowing you to dramatically transform your living area.
Polyurethane molding has gained popularity due to its affordability and ease of installation. It offers durability and can be used both indoors and outdoors. Once installed, it requires minimal maintenance, as its smooth surface can be easily cleaned when necessary. Whether you prefer an unfinished look to paint or stain according to your decor or a pre-finished option, polyurethane molding provides versatility and style.
How do you select the right crown molding for your home?
Selecting the right crown molding for your home involves considering several factors. First, determine the purpose of the molding. Is it intended to match an existing baseboard or to change the overall look of the room? Consider the desired aesthetic, whether you prefer a simple or elegant appearance. Additionally, consider the specific room where the molding will be installed. For example, a dining area may benefit from additional centerpiece molding to enhance the room's beauty. Private spaces like bathrooms and powder rooms may require smaller and less elaborate molding.
Furthermore, crown molding can be utilized beyond the ceiling. It can be employed to design areas above entryways, mantels, or cabinets, adding a touch of sophistication and character to these spaces.
For all your molding needs, POLYNX offers an exquisite array of collections. With their easy installation process and competitive pricing, POLYNX ensures that beautifying your home becomes an affordable and enjoyable experience for years to come.