Remodeling your existing porch into a three-season sunroom can add value to your home in terms of both functionality and aesthetics. According to recent statistics, Americans spent approximately $420 billion in 2020 on home remodeling, with about 30% of consumers upgrading worn-out surfaces, finishes, and materials, and another 20% adding features to improve livability. When it comes to exterior remodeling, features such as exterior lighting, a patio, a front porch, a rear porch, and a deck are most in demand among home buyers.
Porches are considered as transitional spaces that bridge indoors to the outdoors, providing a seamless extension of your interior to the exterior when done right. They offer a great way to relax, spend time with nature, and enjoy time outdoors entertaining. However, it's essential to consider the type of porch you would like to have. Would that be an enclosed or an open porch?
If you're considering screening in your back porch, it's a great idea for a location that is exposed to elements or is overlooked by neighbors. Screening can protect furniture from sun and rain, help keep bugs at bay, and protect you from allergens during certain times of the year. It can make the back porch more of an extension of your home that you can use any time of the year without having to endure the weather.
The décor of your porch can include basic furnishings, accent pieces, good ceiling paint, and walls that add texture and characteristics. Experiment with various looks, including faux stone finish panels that do not chip, strip, or fade with time. Faux stone panels add color, texture, and dimension to the porch walls, and Polynx offers panels in various measurements and colors. Their Arizona dark beige panel complements lush greenery outside and balances sunlight from south-facing windows. Lighting and furniture complement each other for use either during the day or night. Polynx panels made of polyurethane provide insulation and protection from the elements, making them the perfect choice for your porch.
Large windows can bring in a lot of light and add an additional layer of weather barrier. When arranging furniture, make sure to take advantage of the view and face it away from the home towards the yard, which is the focal point. A back porch swing adds a sense of fun and nostalgia and is another practical seating option.
No matter what your home style is, these porch design ideas will provide inspiration to create an oasis for you and your family. Explore Polynx's colorful panels that can be used alone or in combination to create various porch ideas.
Using these panels from Polynx many of our customers have changed the look of their porch. The different color patterns available are made to blend in perfectly with the natural surroundings they already had, and you can't see the difference between natural stone and the PU panels. We here at POLYNX® strive to provide these products to you at an affordable price point. Some quick facts/advantages of PU Panels or Faux Stone panels from POLYNX®:
Instant upgrade to a stone finished look
Easy installation many small projects can be done in hours with our DIY videos
Resists weather, fading and deterioration
Available in a variety of attractive colors
Made from tough, lightweight polyurethane
Low Maintenance. Won't crack, fade or peel
Hope you like the colors and patterns we offer. Below are some pictures and actual testimony from one of our customers: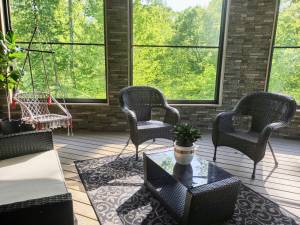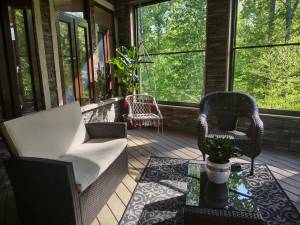 One satisfied customer, Valerie. S, says, "We are really happy with the way POLYNX panels changed the look of our back porch. It has created that additional space where the entire family, including the dog, spends most of the time and enjoys every bit of it. Thank you POLYNX."